Connections between trees and health are growing. We are waking up to health benefits of trees.
Investigative reporter Florence Williams's famous headline now makes sense:
"Take Two Hours of Pine Forest and Call Me in the Morning"
In her book "The Nature Fix: Why Nature Makes Us Happier, Healthier and More Creative", Williams describes and translates cutting edge research on the positive effect of trees/natural world on our bodies and brains.
In The Nature Fix, Williams cites research that says on average we spend "93%" of our time indoors. Yet research shows we are happier outdoors. 
So why are we not all outdoors getting the free health benefits of trees? What I hear most often is "it is too cold" or "I have to much to do"
In The Nature Fix Williams finds a set of studies done at Trent University on 150 university students. Psychologist, Elizabeth Nisbett  gave the students the option to walk to class underground or outside along the canal. 
The students consistently overestimated how much they would enjoy the tunnels and under estimated how good they would feel outside.
Williams notes that "It seems like we have to find the habit of liking and loving to go outdoors all over again.
It's as if we have responsibilities and going outside is somehow shirking these."
In order to get all the health benefits of trees, we need a mindset that will allow us to time to go outside and we need to dress for the cold.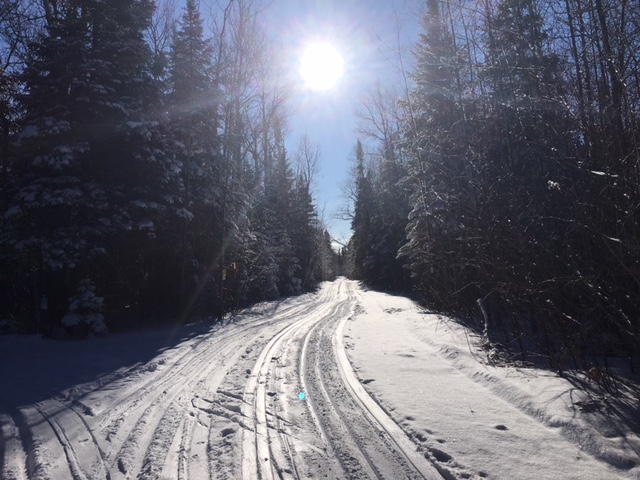 Best Ways to Dress for the Cold
In Pine Falls, Manitoba we are cold weather dress experts. The following suggestions to keep you warm are what we all seem to use out there in the -20 to -30 weather.
Just like sports equipment  technology has come a long way, so has cold weather clothing technology. Columbia has warming technology right in their clothes. Omni heat has little silver dots that reflect and retain the warmth your body generates. It is breathable material. And you don't need bulky layers anymore. No more feeling like a sleeping bag out there!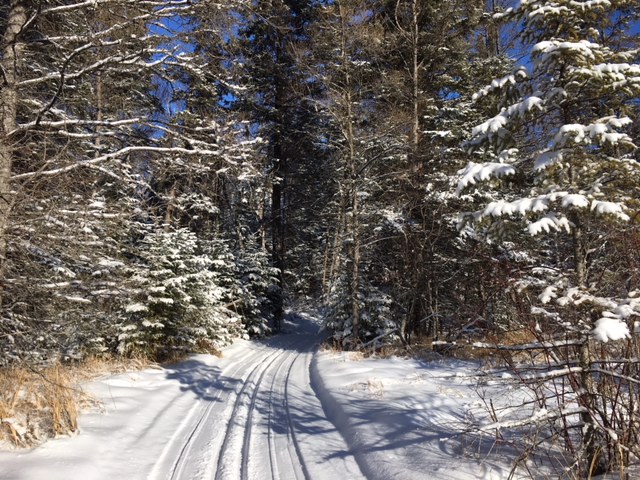 Warm Body Core
I love my Columbia Omni heat jacket. It is very light, yet very warm. The jacket keeps you warm…I mean really warm. I thought the silver dots would be itchy but they're not. I take it with my everywhere because it scrunches up to fit in my tiny back pack. I took it on my flight to England to use as a pillow.
I live in my Columbia omni heat vest. So comfy. Smart looking. I bought it to wear for cross country skiing but now I wear it for everything. The best vest I have ever owned. So warm & comfortable! I wear this under my Columbia omni heat jacket  and do not need any other layer even in -30 below zero.
The Columbia omni heat shirt is a kids one but it fit because the material is so stretchy. I like a snug fit A beautiful color with a silver lining for warmth. It is the best base layer I have ever found. This is a silky close fit to body.
Warm Hands and Feet
I should buy stock in Grabber hand and toe warmers. I could not get through the Manitoba winters without them. I have these on hand at all times. They keep me in the woods  longer. They work consistently for me.
We put ours in our ski mittens and they last most of the day. A good 4 hours of real heat to keep hands warm. More heat throughout the day but they start to fade after 4 hours. We've tried others but they start to fade much sooner than Grabbers.
I take my Grabbers out well in advance of usage and  give them 10 mins minimum. They need ambient air to activate.
Check the expiration date on each package. Send them back if you don't have at least 2 years ahead stamped. They only started putting date stamps on them in the last three years, so anything older than that is not stamped, for the most part too old.
Ready?
So let's dress in layers for the cold. Let's move that 93% of our time indoors to something lower.
We have a huge opportunity to learn from Williams's book – and to become healthier and happier.
Let's get our "Nature Fix"
Out here in Pine Falls (where it is -30)
Verla